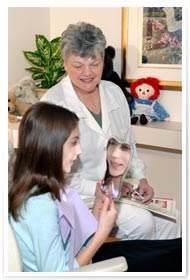 Your teeth are meant to last a lifetime. Sabrina Mandich & Associates is a family dental practice offering quality care to patients of all ages, from preschool children to senior citizens. We strive to create a positive first experience and continue to serve your special needs during all phases of your life. We provide the information you need to make informed choices. We strive to prevent dental problems, and schedule restorative treatment only as required. We welcome the opportunity to serve you, as well as your entire family, friends and associates.
Children
We want your child's first dental experiences to be positive, so as to establish the practice of regular visits and preventive care throughout their lives. Today we can protect your child's cavity-prone teeth with translucent plastic sealants, which significantly reduce their future dental work. By sealing the normal pits and grooves that trap decay-causing food particles, we eliminate problems before they start. This process is safe, painless and economical.
Young Adults
Teenagers are especially sensitive to appearance. Yet, at this age orthodontics may be necessary to correct and beautify a smile for the confidence of a lifetime. Crooked and crowded teeth are hard to care for and clean, which may lead to tooth decay, gum disease, and tooth loss. Bad bites can also cause difficulty in speaking and chewing. We can assess your teen's situation, refer you to a local orthodontist, and then work together to provide dental care that results in a confident, healthy smile. This also is the age where habits are established. Regular dental cleanings, daily at home and biannually the office, are healthy habits. We encourage teens to eat a healthy diet, take care of their teeth, and smile for the joy of it.
We have been seeing Dr. Mandich for 13 years. Our four children have grown up with her caring for them. They actually enjoy going to the dentist! They are always treated with respect and respond positively. The staff has changed very little over the years, so we all feel like they are family. – Dr. Alan & Sheri
Adults
Recent advances in our knowledge, technology and preventive health care enable us to preserve your teeth and a natural, healthy smile for a lifetime. About 70 percent of tooth loss is triggered by the silent, painless advance of gum disease caused by bacteria. Genetics, diet, tobacco use, pregnancy, certain medications, stress, and diseases like diabetes can also impact gum health. Thorough and regular maintenance by a professional hygienist is necessary to detect, treat and prevent gum disease. We can offer you a range of esthetic materials for restorative treatments. We can help you understand the differences among your choices for the longest lasting, most functional and most esthetic choice.
Dr. Mandich's office is efficient and extremely friendly. I do feel like I am part of the family, and that they don't just appreciate my business, but that they take professional pride in being part of what keeps me healthy. They are aware of how demanding my own work is, and by having reliable dental care, and care that anticipates my own aging and changing, they free me to go out and do the work I need to do. Thus, we have a synergy and mutual respect that makes this dental office a real and appreciated part of my life. – Shepherd, Ph.D.
Seniors
It's common for those over 50 to experience cavities and tooth root decay. Receding gums, and an increased rate of gum disease, can expose tooth roots to plaque. Softer than enamel, tooth roots are susceptible to decay and are more sensitive to touch and to hot and cold.
Decay around the edges of fillings is also common with aging. Over the years, existing fillings may weaken, fracture, wear around the edges or pull away from teeth. Bacteria accumulate in the tiny crevices between the filling and tooth, which leads to decay. Worn fillings may need to be replaced before decay has a chance to begin.
People aged 65 or older comprise the most rapidly growing segment of the United States population. Currently, 85% of individuals over 65 have one or more chronic illnesses, while 30% have three or more. Clearly increasing numbers of medically compromised older adults will need dental care in the years to come. For this reason, Dr. Stampalia specializes in dental care for seniors.
I have been a patient for 35 years and I am well pleased with Dr. Mandich's care. She takes time to explain your problems and treats you with respect. – Ruby